We make binding when we bind loose sheets in one arranged collection. Lamination, also known as foliation, is applied in order to protect a document against any damage.
Binding of books, brochures, course books, documents etc. used to be a domain of bookbinding workshops. In present office practice we have at our disposal many systems of quick binding paper sheets. Depending on a purpose we select the most appropriate of them.
Spiral binding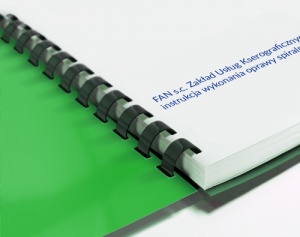 Spiral binding, commonly called binding, consists in making a range of perforations in paper on the binded edge and threading plastic or wire binding spiral through them. Front and back covers are being attached. Usually the front cover is made of a transparent foil and the back is a cardboard: textured or smooth. Depending on amount of binded sheets we apply spirals of various diameter. It is possible to bind from several to over 400 sheets in this manner. We offer differentiated colours of spirals and covers. This type of binding enables an easy unfolding of read material without necessity to hold it with hands. It is especially practical when we bind notes, course books, service manuals, plans and projects, etc. We do not recommend this type of binding if a binded work is intended to be placed in an archive, tightly slipped between other publications.
Thermal binding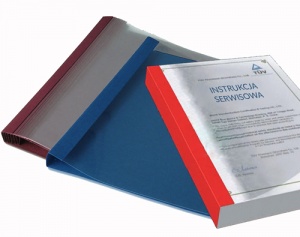 Easy and elegant. It looks very well even for several sheets. The process of making this binding is based on a system of ready covers with thermoplastic layer of glue placed along the internal edge of the cover's spine. The front cover is a transparent foil or a cardboard. Under the influence of heat in the so called thermal binding machine a glue becomes liquid and saturates the edge of binded sheets. After cooling they are bound as a one whole. This type of binding is applied only up to 300 sheets. For thicker bindings, before gluing a cover, we additionally sew up a file. Covers are available in several colours. This binding is convenient for "closed" materials lodged in offices or for conference, information materials and small construction and installation projects .... It is rather inconvenient for reading during the morning coffee and breakfast.
Channel binding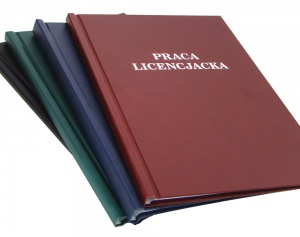 Also known as clamped binding. A cover for such binding may be hard or soft. The soft version can have two variants: with front cover made of a transparent foil or with homogeneous cardboard on the front and on the back. Hard binding is a one type of a thick cardboard on both sides. The main principle consists in clamping of bound sheets in a metal channel, which is glued in a binding's spine. In order to perform this task it is necessary to have a special clamping device. It also allows to unbend the channel in order to replace or add some sheets. This type of binding is used for:
binding a diploma dissertation
binding a master's dissertation
binding a bachelor's dissertation
binding an engineer's dissertation
binding a doctoral dissertation
Binding of project documentation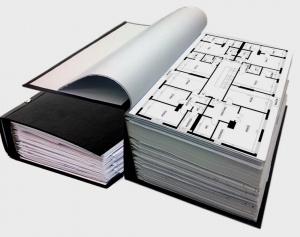 This is the most difficult to execute type of binding. Preparation of materials for binding requires an appropriate concentration. They consist of engineering drawings of various formats folded to size A4 and of descriptions on A4 sheets. An appropriate forming of a binding spine causes necessity of backing special cardboard straps due to various thickness of folded drawings. During folding of drawings an additional auxiliary stapling with metal staples takes place. Next, the whole documentation is being drilled on its spine and a special metal screws are being driven, selected depending on thickness of a binding, which are provided in order to ensure a reliable binding of the whole. Finally cover of a binding is being fit. This system of connections is necessary, because such bindings often have thickness up to 15 cm and their weight can amount to several kilograms.
Other types of binding
Our offer also includes popular, simple binding in a loose-leaf binder with possibility of applying colour alphabetic or numerical dividers, binding in a ring binder and with euro perforation for sticking in the loose-leaf binder. We apply the so called slide binders. Collection of sheets with an attached cover is being bound on the spine by slided plastic binder of an appropriate width for the spine. We offer wide range of materials for covers and colours of binders.
Lamination of documents
We provide hot lamination service to the A3 format. This technology consists in placing a secured paper, cardboard inside a heat-sealing sleeve of an appropriate format and passing it through a system of hot, teflon-coated rolls in a laminating machine. Temperature of rolls and speed of movement are selected in a way enabling fusion of a softened foil into paper and permanent fusion of foil edges protruding from paper thereby creating an air-tight closure of paper. Thus secured document is dirt and spill resistant and also more rigid. Foliation is being used also for protection of printed posters, announcements or notices, which are being placed outdoors. Such preparation allows them to remain unchanged for many long months. Producers offer laminating foils of different thickness, rigidity and surface texture. Lamination is also used for making popular nowadays personal identifiers. We also have many various accessories and tags for identifiers.
Binding documents and foliation at the Warsaw centre. Visit Xerofan at Wspólna street!